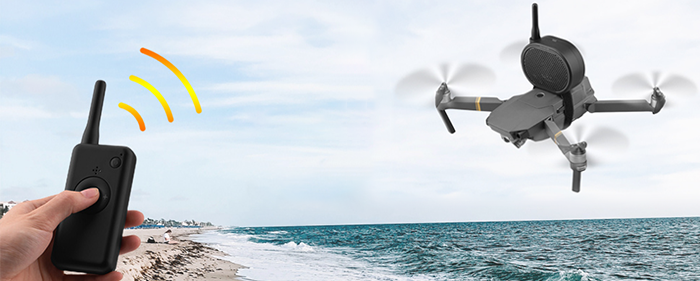 This universal drone megaphone can carry 90% of drones/toy cars on the market with ultra-long distance transmission, high-fidelity intelligent digital effect HD sound without howling.
Can be used for:
✅Non-face-to-face communication
✅Romantic confession
✅Evacuation of people
✅Entertainment and interaction
✅Directing traffic
✅Teaching
✅Tourist guide explanation tool
✅Company meeting
✅Supermarket promotion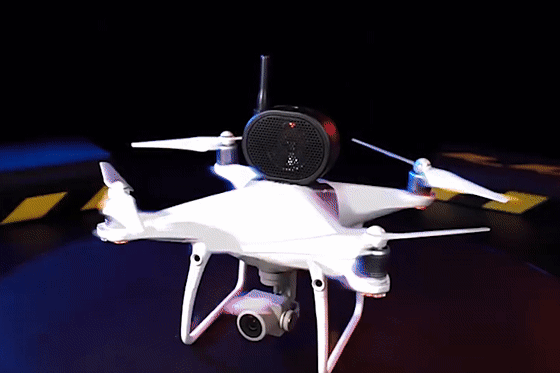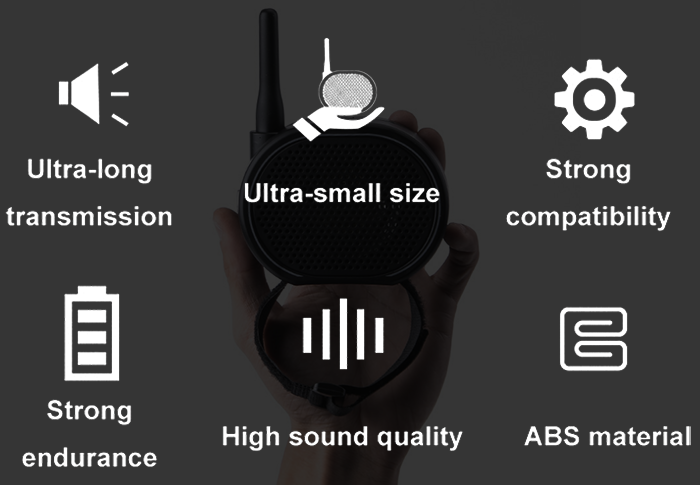 Ultra Long Distance Transmission
Using 400-800MHZ wireless frequency band, strong penetration, built-in voice decoding chip, up to 115 decibels for long distance messaging, sound is loud and clear, does not affect flight.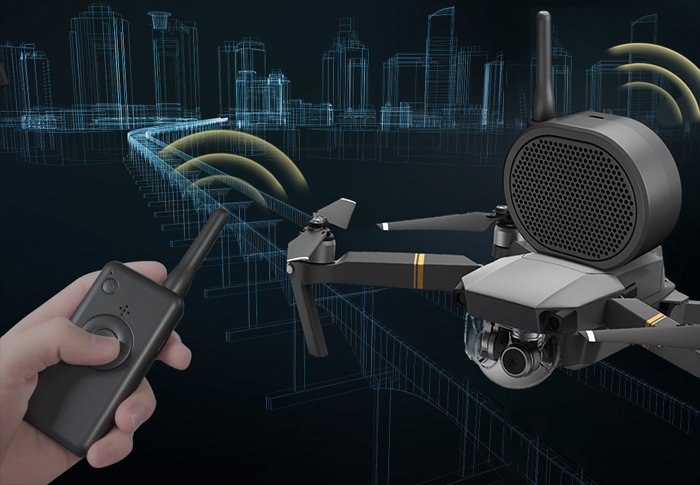 Internal Magnetic Speaker
Based on digital voice coding technology, do not affect drone geomagnetic field, can get super clear voice and prevent disturbing from analog voice sources.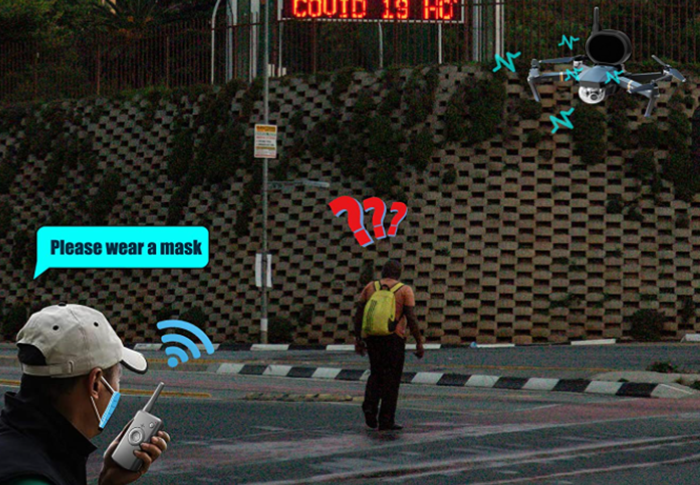 Abrasion-Resistant Material
Exquisitely made from ABS, light & wear-resistant, and minimizing the impact on aircraft life. All-in-one structure and small size, easy for installation and low air resistance.
Stable & Portable
Propaganda is only 95 grams of load, and even toys class aircraft can be carried. Adjustable velcro easy adjustment, the bottom is designed with non-slip soft cushion, sticky fixing and avoid scratching the vehicle.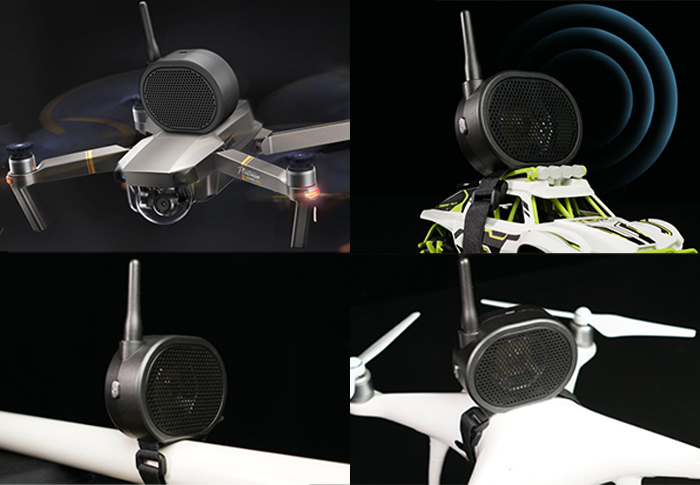 Wide Usage
It can be used to direct traffic on a crowded road, help you evacuate the crowd in an emergency, easily communicate with your neighbors or community members without face to face contact, be a romantic maker and etc.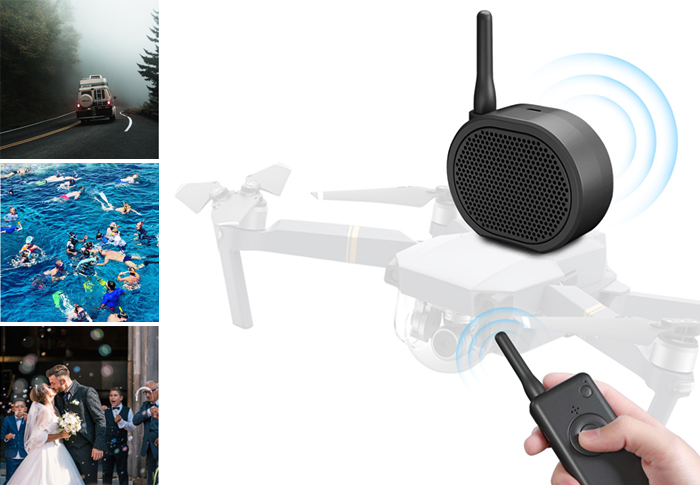 High Compatibility
The megaphone can carry multiple models of aircraft on the market, such as DJI Mavic/Phantom series, FIMI Drone series, Huban Zino...and other products that can carry more than 100 grams of drones, remote control cars and remote control boats and so on.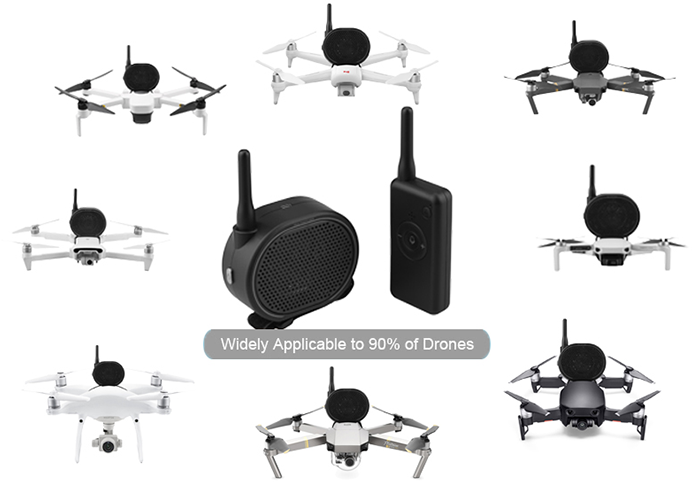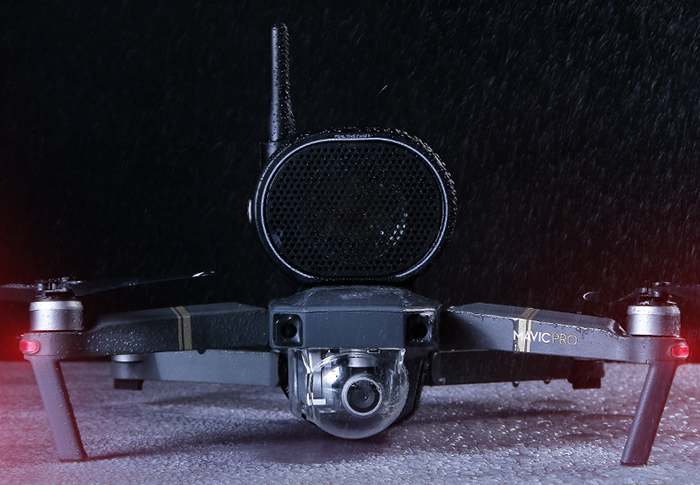 Specifications
Speaker Volume: about 115 dB sound pressure at close range
Communication Channel: 462MHz
Controller Control Distance: 1.2 km
Sound Propagation Distance: about 200 m
Loudspeaker Battery: Li-po 3.7V 600mAh
Controller Battery: Li-po 3.7V 800mAh
Material: ABS
Color: Black
Net Weight: 97g (megaphone), 47.3g (remote control)
Product Size: 10*4*5cm / 3.9*1.6*2inch
Packing List:
Megaphone X1
Remote Control X1
USB Charging Cable X1
User Manual X1
Velcro Strap X 1