All wood carving products are carved from solid wood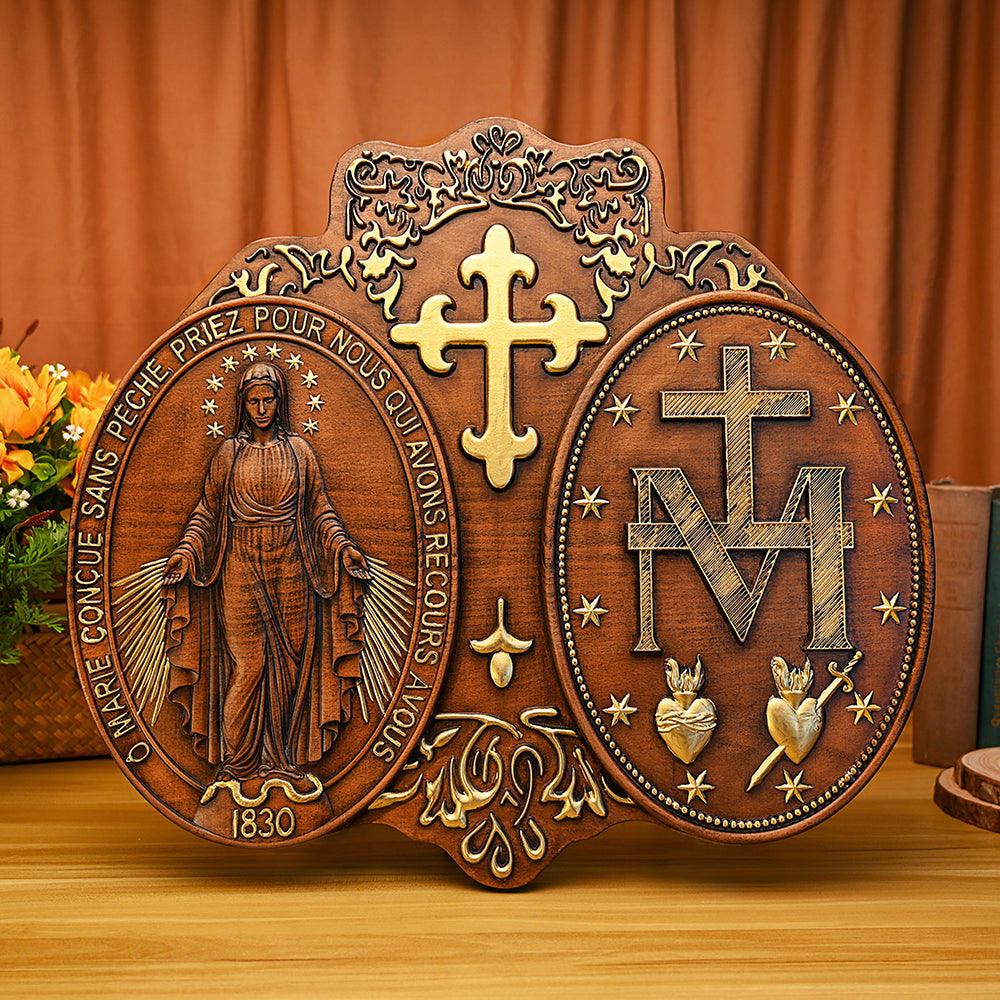 ★Item Details
• Craft: hand-carved
• Treatment: manual polishing
• Material: Beech, Water-based paint
• Weight: 600.1500,3000g
• Accessories: hanging buckle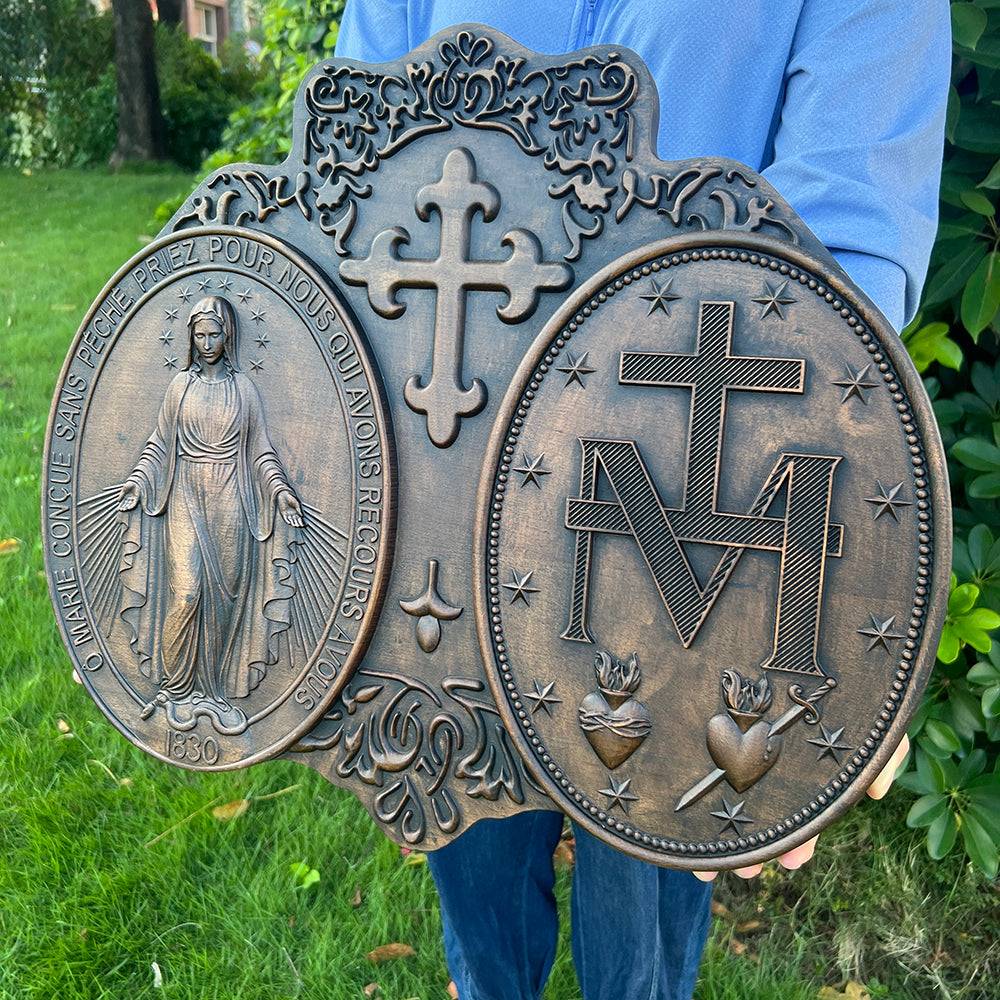 The Miraculous Medal, also known as the Medal of Our Lady of Graces, is a devotional medal, the design of which was originated by Saint Catherine Labouré following her apparitions of the Blessed Virgin Mary.
According to the teaching of the Catholic Church, the use of sacramentals such as this medal prepares people to receive grace and disposes them to cooperate with it.
The medal depicting the Blessed Virgin Mary as the Mediatrix of All Grace, crushing the serpent and standing on top of the world, Rays of light, symbolizing grace, stream down on the globe from Mary's hands. A ring surrounding the Virgin's head is inscribed with the words: "O Mary, conceived without sin, pray for us who have recourse to thee".
The elements of the design encapsulate major Marian dogmas and tenets.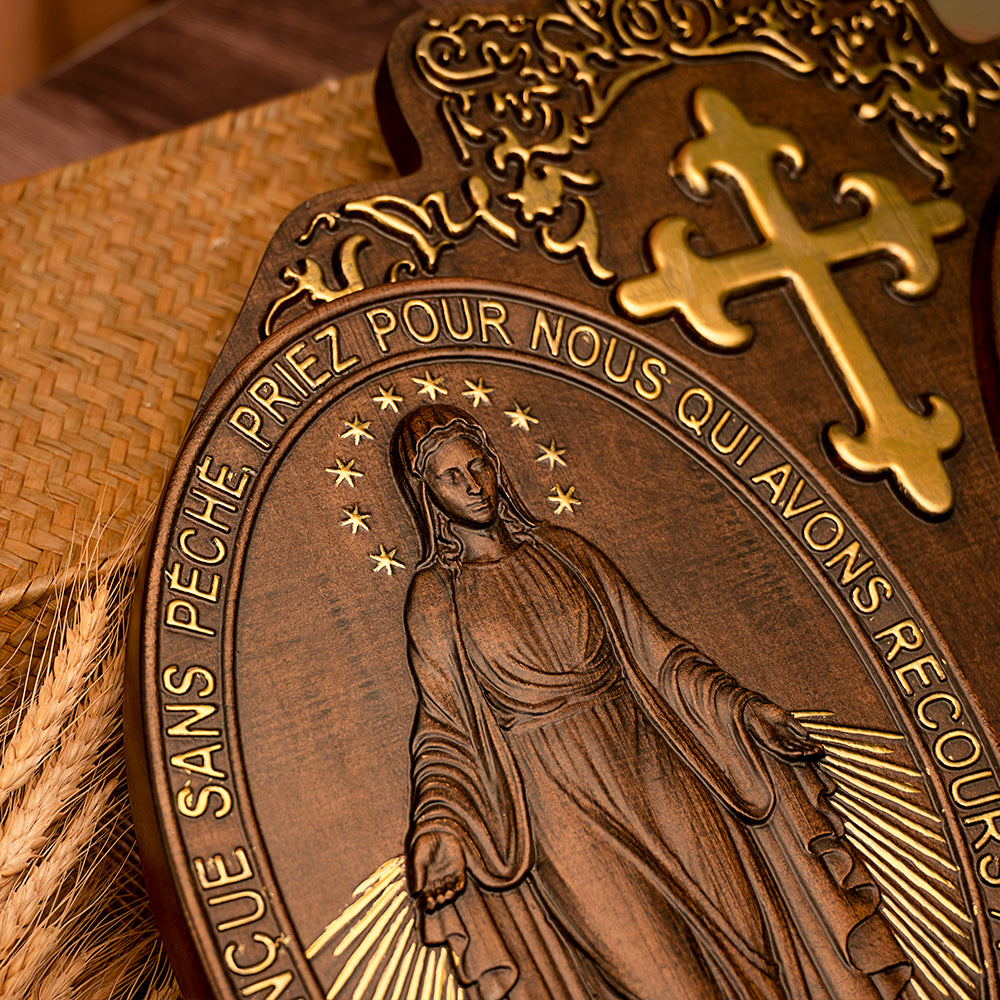 Front side:

Mother – Her open arms, the "recourse" believers have in her.
Immaculate – The words, "conceived without sin."
Assumed into Heaven – She stands on the globe.
Mediatrix – Rays from her hands symbolizing "graces."
Protectrix – Crushes the serpent (Genesis 3:15).
Reverse side:

The large letter "M" – Mary as Mother, Mediatrix.
Cross and bar – Jesus' Cross of Redemption. The interlacing of the M and the Cross shows Mary's close involvement with Jesus, and points to her role as Mediatrix.
12 stars – the Twelve Apostles and the vision of Saint John the Apostle in Revelation 12:1: "And a great sign appeared in heaven: A woman clothed with the sun, and the moon under her feet, and on her head a crown of twelve stars."
Left Heart – The Sacred Heart of Jesus, Who died for the sins of mankind.
Right Heart – The Immaculate Heart of Mary, who intercedes for sinners.
Flames around both hearts – The burning love both Jesus and Mary have for all people.